Accommodations: There are a full range of accommodations including numerous motels and hotels, as well as bed and breakfast places, camping and RV parks.
Population:
197,292 (the third most populated urban centre in British Columbia)
Elevation:
Ranges from sea level to a maximum of 1,200 feet atop Burnaby Mountain.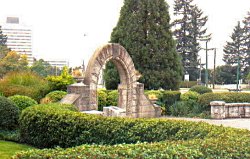 In 1935, to celebrate the Jubilee of King George V,
May Queen Clara Woodridge dedicated Jubilee Grove as a garden in Central Park.
Climate:
Moderate with warm summers, and cool rainy winters.
Main Industries:
Burnaby has a large commercial centre; manufacturing; large industrial parks; warehousing and distribution and a growing high-tech industry.
Location & Access:
Burnaby, British Columbia, is located between the City of Vancouver, BC, on the west and Port Moody, Coquitlam and New Westminster on the east. On the north the city is bordered by Burrard Inlet, and to the south by the Fraser River. The city is on BC Hwy 99A, 12 km (7 mi) east of Vancouver. Main entrances from Highway 1 are the Grandview Highway, Sprott Street, Willingdon Avenue, and Cariboo Interchange.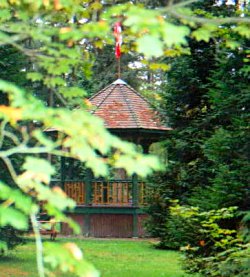 Burnaby's Central Park
Recreation Facilities and Activities: Swangard Stadium and numerous other sports, recreation, and community complex's, Burnaby Lake Rowing Pavilion, Tennis / Racquet courts, Burnaby Velodrome (North America's only indoor cycling track), golf courses, wildlife sanctuary, fishing, boating, swimming, museums, arts studios, theatre, shopping and dining.

Local Attractions: Simon Fraser University and Burnaby Centennial Park, both on Burnaby Mountain; Deer Lake; Century Park that includes Century Garden, Burnaby Art Gallery, James Cowan Theatre, Shadbolt Centre for the Arts, the Art Gallery at Ceperley House in Deer Lake Park, Burnaby Village Museum and Carousel; Burnaby Lake Regional Park; Central Park; Metropolis and Metrotown Centre.
---
---

Annual Events:
March - Western Railroadiana Show, Carousel Capers (Burnaby Village Museum)
April - Burnaby ArtWalk
May - Rhododendron Festival (Deer lake Park)
July - Canada Day celebrations, Burnaby Blues Festival, Burnaby Gardens Tour, Burnaby Summer Theatre
August - Burnaby Summer Theatre
November to January - Heritage Christmas at Burnaby Village
December - Heritage Christmas at Burnaby Village, Seasonal celebration at Shabolt Centre for the Arts, Magical Christmas Tour