Vacationing at BC's Famed Whistler Resort
---
For many, the name "Whistler" conjures images of an idyllic winter resort amid snow capped mountains and some of the best ski trails North America has to offer. Whistler has become the epitome for winter vacations, symbolized by its outstanding setting and award-winning architecture.
But as many travellers are now discovering, Whistler Resort is more than just a great winter getaway. Situated less than 3 hours (120 km/74 miles) from Vancouver, it hosts some of the best resort accommodations BC has to offer, with first-class dining and entertainment that is available year round.
Although skiers have been flocking to the Whistler area for more than half a century, its resort is a relatively new innovation. Acclaimed for its unique design, the alpine village sits at the base of Whistler and Blackcomb Mountains. Its locale and winding, picturesque streets provide a perfect setting for a year-round resort.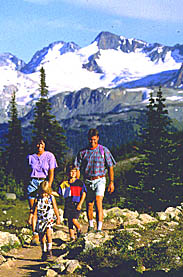 Family hiking in alpine Whistler.
Photo by Paul Morrison
Undoubtedly one of Whistler's best qualities is the variety of accommodations that are open to the visitor. Guests can choose from an impressive list of options, including bed and breakfast inns and rooms, traveller's hostels, rental condominiums and Whistler's renown resort hotels.
There are also a number of choices available to campers and RV'ers. Garibaldi Provincial Park is a favourite locale for many nature enthusiasts. My husband and I have camped in the area several times and have been impressed with the selection of campgrounds on either side of Whistler. Brandywine Falls Provincial Park is 11 km/6 miles south of Whistler and, as the name implies, offers beautiful scenery. It is also one of the more popular campgrounds in the area.
Nairn Falls Provincial Park (29 km/18 km north of Whistler) is another attractive park with semi-enclosed sites, some of which overlook the river. There are also several private parks between Squamish and Whistler that offer full hook-ups and other RV amenities.
Many a skier has stayed at Hostelling International's Whistler hostel, located 5 km/3 miles from Whistler Village, on the peaceful shores of Alta Lake. The hostel caters to international travellers and is open year-round for Hostelling International members and non-members alike. Contact the hostel at the number listed below to find out about reservations and rates.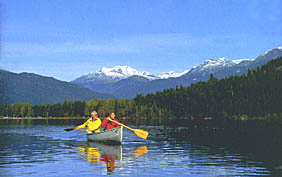 Photo by Leanna Rathkelly
Nestled on the edge of Garibaldi Provincial Park, the resort also offers a wide range of leisure activities, that includes golfing, hiking, camping, and breathtaking helicopter tours of the surrounding countryside. Whistler's four golf courses are world famous for their professional tournaments.
In the summer, Whistler opens its streets to non-stop music. Beginning in May and June, visitors can take in Whistler's Summer Street Entertainment, a cornucopia of musical features. Canada Day is Whistler's icing on the cake, as the resort celebrates Canada's birthday and kicks off the summer in style.
There are also an unlimited selection of sporting activities to enjoy. Skiers and snowboarders will be happy to hear that the snow doesn't disappear in the summer - the slopes just start higher up the mountain. The top of Blackcomb Mountain is normally open during May-August.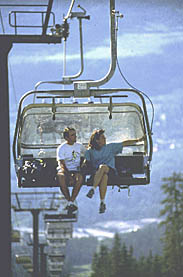 Couple on chairlift sightseeing.
Photo by Leanna Rathkelly
For the more adventurous back country visitor, there are all terrain vehicle, 4x4 and flightseeing tours available during the summer months. Flights are generally 20 minutes or longer in length and provide a spectacular way to see the countryside.
Or you can see the sights by river raft or jet boat. River rafting companies provide both partial-day or multi-day trips. Longer excursions normally include food and accommodation arrangements.
For a spectacular tour of the Coast Mountains and surrounding area, take a 3 hour train ride north to Lillooet. BC Rail's Cariboo Prospector stops at Whistler at 9:30 am and arrives in Lillooet in time for lunch (you can also make the round trip in the same day). The train is an enchanting way to see some of BC's most impressive canyon countryside.
Keep in mind that if you are planning on staying in Whistler Village, you do not need a car to get there. There are any number of public and private transportation systems available to the Whistler visitor. BC Rail's regular trains leave twice a day from Vancouver. Perimeter Transportation and Whistler Star Express operate several buses that will pick up riders at the Vancouver International Airport (and in Vancouver) and shuttle them to the resort. Maverick Coach Lines provides daily service between Vancouver and Whistler. There are also a list of charter bus and limousine services available from the Greater Vancouver Area.
---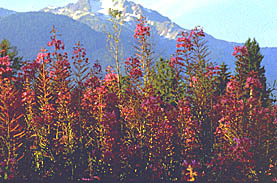 Fireweed
Photo by Leanna Rathkelly
Getting to Whistler by Car or RV
From Downtown Vancouver:

Take the Lions Gate Bridge to North Vancouver. Follow Highway 1 west until it connects with the Sea-to-Sky Highway (Highway 99) and continue north as it winds along the coast towards Squamish.
From the Hope Area and Points East:
Stay on Highway 1 until it links up with the Sea-to-Sky Highway (Highway 99) at Horseshoe Bay, just north of West Vancouver. Highway 1 will take you through Vancouver and will cross several bridges before it arrives in West Vancouver.
For more information and reservations:
Tourism British Columbia:
1-800-663-6000
Whistler Resort Association:
1-800-944-7853
Hostelling International Whistler Hostel:
1-604-932-5492
Unarguably, one of the best features of visiting Whistler is the incredible scenery you will see on the way. If you are driving, by all means take time to enjoy the vistas, but use the pull-outs and official rest stops along the way. You will definitely want to bring your camera.
© Copyright Jan Lee

---
Jan Lee jnlee@sfu.ca
Be sure to read other articles by Jan Lee in the BC Adventure Network