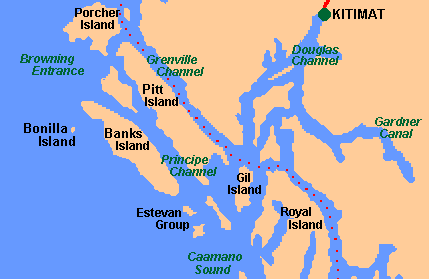 Salmon Fishing Kitimat & Douglas Channel
The Douglas Channel area takes in an area stretching from Kitimat, BC at the head of Douglas Channel to Caamano Sound and Princess Royal Island. This area, famous for its pristine wilderness (keep on the lookout for the areas famous, rare, white Kermode bear) and abundant sea-life, is now gaining fame as one of BC's premiere salmon fishing grounds. These well protected waters offer exceptional fishing for huge Chinook and Coho salmon as well as some of the largest Halibut found on the BC coast.
Chinook season peaks in June to early July, however there is an earlier Alaskan run which takes place in spring. 3 year Hatchery feeder springs are also available in the fall, and often reach 30 lbs. Coho salmon start arriving in late July and will taper off by mid-September. Peak time for Coho occurs in August. Excellent Halibut fishing (many reaching 100+ lbs.) is available all year round. (See Game Fish of BC)
Floating fishing lodges can be found in this area and charter boat services can be arranged at the town of Kitimat. Kitimat, the gateway to the Douglas Channel wilderness area, can be reached by taking a commercial flight from Vancouver , BC to either Terrace or Kitimat. Kitimat can also be reached by car. Travel west on Hwy. 16 from Prince George. At the town of Terrace turn south on Hwy. 37 and continue on to Kitimat.
---

If you would like to have your business listed, please Click Here.

---
---
Fishing Kitimat & Douglas Channel
Halibut & Salmon Fishing